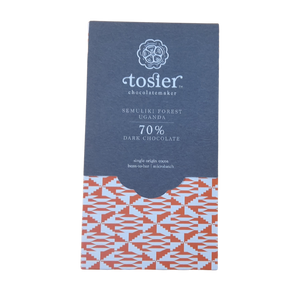 Tosier
Semuliki Forest, Uganda 70%
Regular price
$9.00
$0.00
Unit price
per
Tax included.
Shipping
calculated at checkout.
Bright with distinct notes of peach and nuts.
Located in Bundibugyo, Western Uganda, Semuliki Forest cacao is grown by 1,002 organic smallholder farmers in the region, 52% of whom are women. Latitude Trade Co. (LTC), the company that processes and exports this cacao, has organized 6 rural collection points for farmers to access, where they sell fresh cacao weekly into the network and receive cash at the point of sale.
LTC's centralized fermentation facility and warehouse is located in the village of Bumate, at the base of the hills leading into the mountains. The site is designed to take advantage of all possible available sunshine while limiting runoff from heavy rainfall.
Fermentation boxes have a 500kg capacity and total duration of fermentation varies from 5 1/2 -6 1/2 days. Beans are sun-dried on portable raised racks for 6-7 days and blended to create consistent lots before export.
Our chocolate is made using the highest quality cocoa, sustainably-sourced from the world's top 5%, so our farmers get their fair share.
Most of our bars are made with 70% cocoa to enable you to compare and appreciate the delicate and distinctive flavours of the beans and their varieties.
Making our chocolate in 24 kilo micro-batches, we are able to genuinely keep a close eye on the chocolate's development ensuring the natural goodness and delicate flavour profiles are retained through the process.
We only make a limited number of bars from each harvest, as like wine, each harvest is unique and the delicious flavours of each variety are enhanced by individual roasting profiles.
Tosier Chocolate uses only three ingredients
70% SINGLE ORIGIN COCOA BEANS
UNREFINED ORGANIC CANE SUGAR
COCOA BUTTER
Vegan and gluten-free
NUTRITIONAL VALUE (typical per 100g)  ENERGY 544kcal/2276kj FAT 37.9g (of which saturates 23.2g) CARBOHYDRATES 39.2g (of which sugars 36.3g) PROTEIN 9.1g
BEST BEFORE 05/2022
---